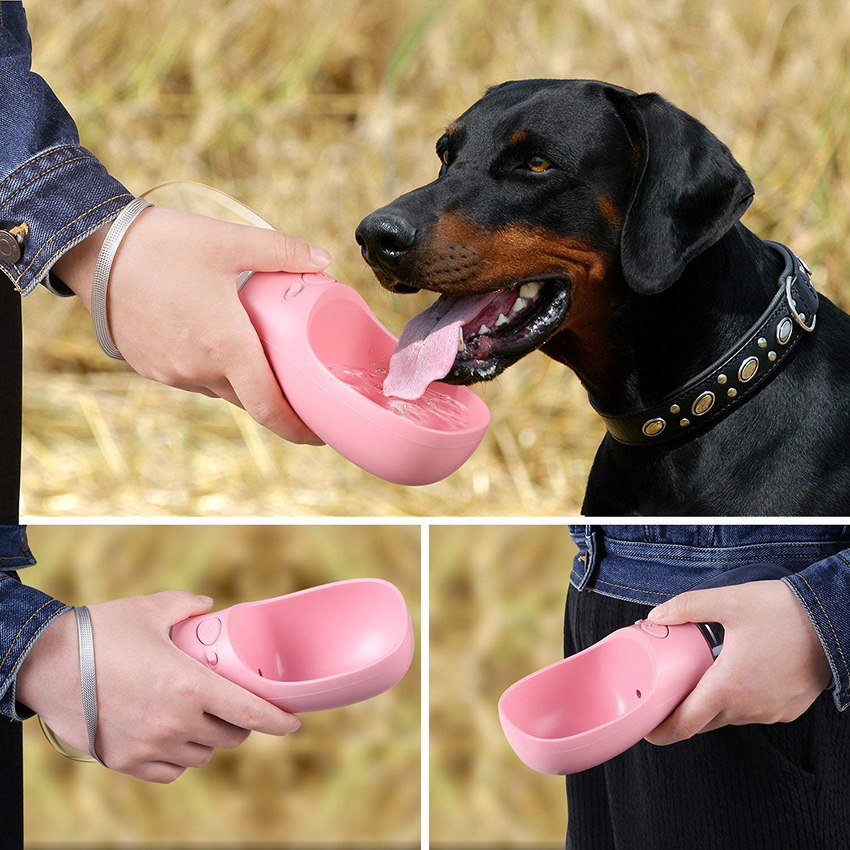 When it comes to quality, ease of use and style, this travelling dog water bottle would have to be one of the best on the current market. Before we delve into the benefits and features of this dog dispenser let's take a look at why we need one.
Why you need a portable dog water bottle aka water dispenser
One of the joys of having a dog is that we can take them with us on trips, long walks, hikes, beach  and just about anywhere we can think of. Which stands to reason that there are a few things we need to consider when bringing them along. One of these considerations is providing them with plenty of fresh clean water. And the best water to offer them is water that we know is clean and fresh that we bring with us. We care and love our pets too much to rely on muddy puddles and water sources that are suspect for their hydration needs. This portable dog water dispenser we'll be reviewing today is one that ticks all the boxes in my opinion.
Eco-Friendly
You'll be happy to learn that this portable dog water bottle is BPA-Free. BPA stands for Bisphenol A and is an industrial chemical that has been used to make certain plastics and resins since the 1960's. There has been some concerns from the FDA about the levels of BPA in plastics and there are ongoing reviews and studies to this day regarding BPA. This dog water bottle being BPA free removes any possible health issues relating to BPA completely from your mind.
Another factor worth nothing is this product is PB Free so there is absolutely no Lead contained in this water bottle.
Also worth noting is that this travel water bottle is approved by the Food and Drug Administration(FDA).
Stylish
Not only does this travel bottle look good it also has a smooth and quality finish making it feel good product for want of a better word. The release button and switch is easily reachable with your thumb making it easy to pour and use this bottle with one hand. This allows you to hold the leash with the other to maintain full controls of your dog while offering it water.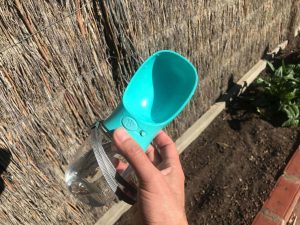 Portable and easy to transport
The pet water bottle contains a quality sling making it possible to wrap around the hand giving that extra security to prevent slipping or dropping to the ground. The sling also allows you attach to a clip which you can fasten to your bag, backpack and jeans. This is a small but handy feature which some other portable bottles don't provide.
Leak proof
Our water bottle contains a switch that controls the flow of water. Once your pup completes his drink you can simply switch to OFF and not a drop will escape. An added feature that helps in preventing leakage is the silica gel seal that sits between the bottle and the cup. You can clearly see the silica gel seal ring in the image below.
No water wastage
Another great feature of this particular travelling dog water bottle is once your pet finishes their drink you simply press the release switch straighten the bottle slightly and the water trickles back into the bottle section to be used for later. In this way there is no water waste and your water supply will last longer.
Cup feature
Some may know that dogs drink water by lapping at water using the back of their tongue to do so. Which means ideally the water should be situated in a bowl or cup. Our water bottle features a cup that water is poured into from the main bottle section. To fill the cup simply tip the bottle slightly press the release button and water begins to flow the cup.  This allows the perfect container for your dog to drink freely and easily once the cup is full. Press the button to pour more water if required.
I might add that this is why we have always been strong advocates of the collapsible dog bowl because this also provides ideal conditions that allow pets to drink the way they were designed to, not merely trying to drink from someone pouring water over a dogs mouth. The drawback with the collapsible dog bowl is you must carry fresh clean water with you.
Two sizes to choose
This particular on the road water bottle caters for small, medium and large dogs. We have two sizes to choose.  We have the 350 ml for small to medium and the large which can hold  550ml. These sizes are ideal for any type of walk, long or short. For longer outings such as hiking, road trips, beach days a refill will be required especially for active dogs. This can be a disadvantage but there is a price to pay for a too large a bottle, such as added bulkiness.
Three colors to choose from
Admittedly this is purely aesthetics but it's great to have choice. We're all different and therefore have different tastes. The choices available are white, blue or pink. Not too many choices to get confused but enough for a decent variety.
Conclusion
You can see from all the points, benefits and features listed above we have a travelling dog water bottle that meets all the requirements that a consumer looks for when deciding on a purchase.
In this case we definitely have quality and style appeal. As mentioned earlier I love the feel of this product made with quality in mind.
Next we have the usability factor, very easy to use, can be used with one hand allowing the other to keep control of the dog. We also have the eco-friendly factor, safe for the environment and more importantly safe for your furry friend. The other factor which is just as important is the price.
We try our best to keep our costs down to allow us to sell to you the consumer at the lowest possible price. As a bonus we offer a 15% discount for first time buyers so shoot an email to info@gifts4leggedlovers.com and tell us where you found us and we'll gladly send you a one time discount coupon.